The name "Mediterranean Diet" is on everyones lips at the moment, but what exactly is a mediterranean diet and are there really health benefits attached? The word "Mediterranean" conjures up images of long crusty loaves of bread, tender olives, a glass of wine and fresh fish. All these things are characteristically "Mediterranean" but they do not define the Mediterranean lifestyle. So what constitutes the Mediterranean diet trend that has recently become popular? It is about more than just food, it's about living life to its fullest and being healthy as you do. That's a goal all of us can achieve.
The "Mediterranean diet" is about eating wholesome foods such as fresh fruit and vegetables, wholesome grains, beans, nuts, and seeds. And who could forget olive oil, fresh fish, and good wine?
This New York Times video talks about how the Mediterranean diet helps people with cardiovascular diseases.
It's important to understand the elements of a Mediterranean-type diet
Base every meal on fruits, vegetables, whole grains (whole wheat bread, brown rice, quinoa and bulgur), olive oil, beans, nuts, legumes (lentils, dried peas and beans), seeds, herbs and spices.
Eat fish at least twice a week.
Eat moderate portions of cheese and yogurt daily to weekly.
Eat moderate portions of poultry and eggs every two days or weekly.
Eat red meat sparingly or limit to three-ounce portions.
Drink plenty of water each day, and drink wine in moderation—no more than one (5-ounce) glass a day for women, two glasses per day for men.
To help people understand the Mediterranean Diet, Oldways developed the:
     Mediterranean Diet Pyramid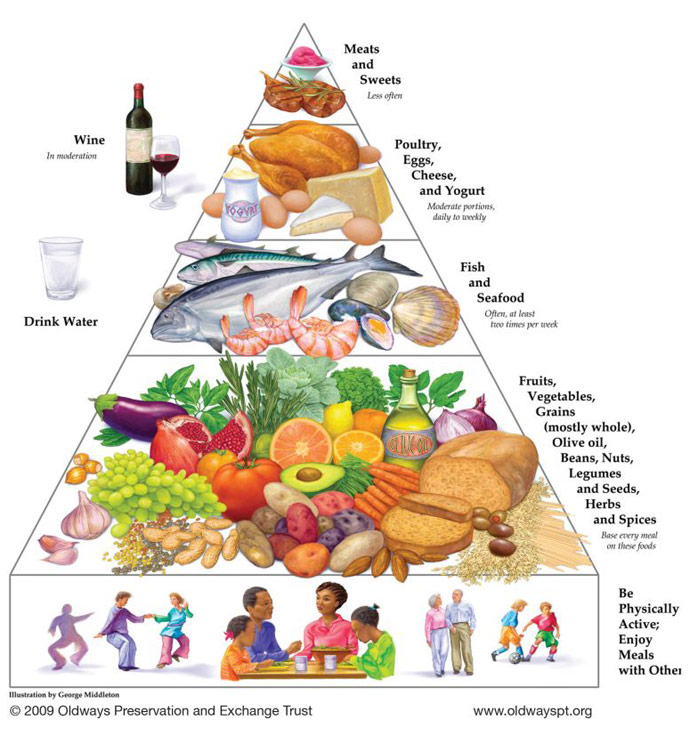 Though the "Mediterranean diet" is high in dietary fat, more than half of the fat calories consumed in the "Mediterranean diet" come from monounsaturated fat. Monounsaturated fat comes from sources like olive oil and avocados. A study published in the Journal of Nutrition regarding the effect of the "Mediterranean diet" on the risk for chronic disease. The results of this study suggest that an eating pattern high in plant foods and unsaturated fats, like the "Mediterranean diet", can reduce the risk for lower abdominal obesity and coronary heart disease (Romaguera et al., 2009).
With simple changes introduce the Mediterranean diet into your daily routine
use olive oil instead of other oils/ fats for cooking and dressing salads and cooked vegetables
consume vegetables with every meal (including leafy greens and tomatoes)
consume 2–3 serves of fresh fruit per day
consume legumes (cooked dried beans) 3 times per week (in salads, soups, casseroles, veggie burgers, falafel)
have 2–3 serves of fish or seafood per week (at least one oily fish such as salmon or sardines)
eat at least 3 serves of nuts per week (include walnuts and almonds)
choose white meat (poultry without skin or rabbit) instead of fatty processed meats (sausages, burgers) and keep red meat portions small and lean
choose natural (unsweetened) yoghurt as snack on most days
cook regularly (at least twice a week) with tomato, garlic and onion, and aromatic/culinary herbs as a base for pasta sauces, casseroles and baked dishes.
Reduce consumption of:
cream, butter, margarine
processed meats (sausages, salami), fatty meats and poultry skin, deep-fried battered foods
carbonated and/or sugared beverages
pastries, cakes, sweet biscuits and lollies
processed savoury snacks (potato chips, savoury biscuits).
    Make your own Mediterranean Salad Dressing    
The Ultimate Mediterranean Salad Dressing
Prep Time 5 minutes
Servings 1 cup
Ingredients:
1/2 cup olive oil
4 tbsp red wine vinegar
2 tbsp lemon juice
1 tbsp lemon zest
1 tsp greek seasoning
1 tsp oregano
1/4 tsp black pepper
Instructions:
Mix all ingredients in a bowl or shaker bottle. Stir/shake to combine.
Allow to chill in refrigerator for 30 minutes before servings. ENJOY!
   Basic Ingredients to Have on Hand    
| | |
| --- | --- |
| Canola or vegetable oil | Red wine vinegar |
| Olive oil | Seasoned rice vinegar |
| Dijon-style mustard | Garlic |
| Balsamic vinegar | Lemon |
| Distilled white vinegar | Honey |
| Cider vinegar | Salt and pepper |